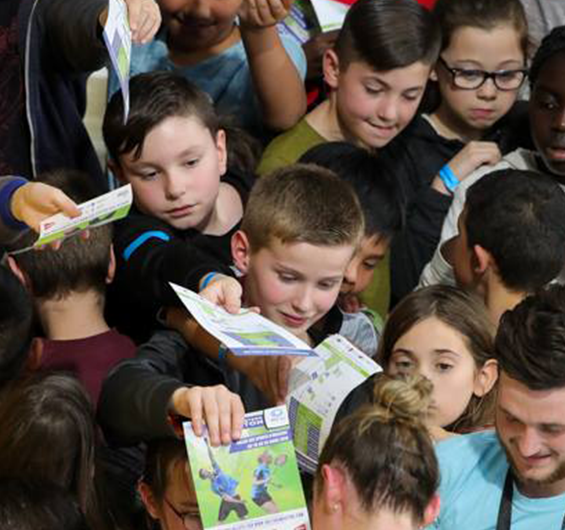 A closed-door edition

Given the health context and the lack of visibility we have concerning the government measures for the month of March, the Orleans Masters Badminton 2021 will take place behind closed doors. It will therefore not be impossible for us to welcome you to the Palais des Sports. However, be aware that other activities will be planned outside the enclosure !

You will also have the possibility to follow all the matches to your students, from our Youtube channel or on the dedicated page of our website.

ACTIVITIES AT PASTEUR PARK
Your class will be able to participate in all of the activities below, organized in Pasteur park and co-hosted by USEP & Formasat.
Visit a badminton exhibition and take a quiz on its history (30 minutes)
Take part in a workshop on emotions in sport (30 minutes)

Step 1
Have children find as many words as possible that they think can illustrate emotions in sport
Interact with children by asking questions: When do you feel this kind of emotion ? Can this help us win ? Who can feel this emotion?
Proposal of emotions : victory, defeat, joy, sadness, sharing, difficulties, anger, stress, fear, being moved, fatigue, encouragement, being happy, being out of breath, thinking, being tired, …

Step 2
Divide the students into groups of 3 or 4 with the following instructions : Come and draw a card from the pile of emotion cards proposed and think of a staging that illustrates the emotion

Step 3
Photo taken by the supervisor in front of the tournament poster.

Discover the "Air Badminton" (1 hour)

These activities will last about two hours and we can welcome you from Tuesday to Friday between 9 a.m. and 4 p.m. For more information, please contact chantal.leguay@cltobadminton.fr by email or Chantal by phone at 06 10 55 56 93. School groups from all schools in the metropolis (public, private, elementary, middle and high schools ) are invited to take advantage of the total free access of the Tao network, which is guaranteed to them for their school trips to the Pasteur park. If this project interests you, you can register directly on the form by clicking on the link below. Please indicate the desired day, the number of children and the number of classes before March 10, 2021.