Interviews
Corrine Fouassier, Maryne Jacques and Bernard Gaudey – Orleans Masters Badminton Volunteers
16 March 2021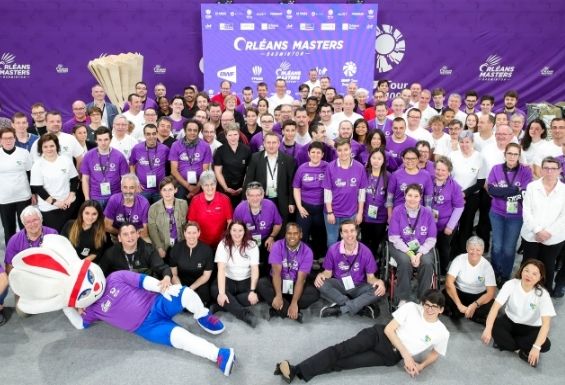 How long have you been volunteering on the Masters? How did you get started in this adventure?
Bernard Gaudey : « I participate for the 3rd time in this tournament. The "word of mouth" was my source of information, I registered and was retained. I come back every year because I like the tournament, the atmosphere, the friendliness and the mission entrusted to me. »
Corinne Fouassier : « I have been volunteering on this tournament since the first edition. Players were scheduled to take turns managing the wheels but after a relay each there was no one! So I was called to troubleshoot, prepare and manage the wheels. I've been here ever since. »
Maryne Jacques : « It will be my sixth year as a volunteer. I started in 2015 at the age of 17. I was a student at the Paul Gauguin Professional High School in the "customer and user relations reception" section. Then I continued, because I like it. I have created a link with the other volunteers so it's always nice to be back together every year. »
Are you volunteers on other events ?
Bernard Gaudey : « Over the years, I have become a « volunteer professional »: Euro de foot 2016, the World Wrestling Championships, the French Badminton International, the Euro de handball, the Euro de volley, rugby, charity races, athletics. All these sports as volunteers, and a volunteer recruitment role for the Euro Football, the Women's Football World Cup, the Euro Hand or the European Athletics Championships that will take place next August. We must add to this list, a training for anti-doping control. »
Corinne Fouassier : « I volunteer on other tournaments and badminton championships and on handisport events. »
Marine Jacques : « It's the only event where I volunteer. »
What are your motivations for volunteering ?
Bernard Gaudey : « volunteering has become a necessity: to be able to help in a good mood and smile, to meet people of different backgrounds and ages, but it is above all a personal enrichment »
Corinne Fouassier : « I especially remember exchanges with various people. »
Are you sportsman/woman ?
Corinne Fouassier : « I practiced the wheelchair para-badminton, but the pain became too strong to continue playing games. When I was younger, I practiced judo and also did some kayaking »
Marine Jacques : « Played badminton in high school and college and I used to play tennis. But the "beginner" badminton kit is never far for a game in the garden with friends! »
Bernard Gaudey : « While me, I'm not even a sofa sportsman! »
How do you see the tournament from the inside ?
Bernard Gaudey : « The team is involved, professional and friendly, at the service of a friendly and quality tournament. As a spectator, it's very interesting. »
Corinne Fouassier : « I see it as a moment of sharing with referees, players, other volunteers. It's a moment of conviviality … and fatigue! This is a great sports show, which allows to have great exchanges and relationships with other actors. »
Marine Jacques : « it's a rewarding experience, because the tournament evolves every year. It requires versatility and investment, but we always have goodwill and recognition in return! And the good mood is there ! »
Bernard Gaudey, 66 years old, former school director, volunteer at the champagne bar - Bondy (93)
Corrine Fouassier, 61 years old, retiree from the banking sector, volunteer in charge of badminton shuttlecocks on the board - Saran (45)
Marine Jacques, 23 years old, executive secretary in au college, volunteer in charge of the reception of VIP - Orléans (45)