Interviews
ISABELLE JOBARD – THE HIGHEST JUDGE-ARBITRATOR OF THE INTERNATIONAL BADMINTON HISTORY
16 March 2021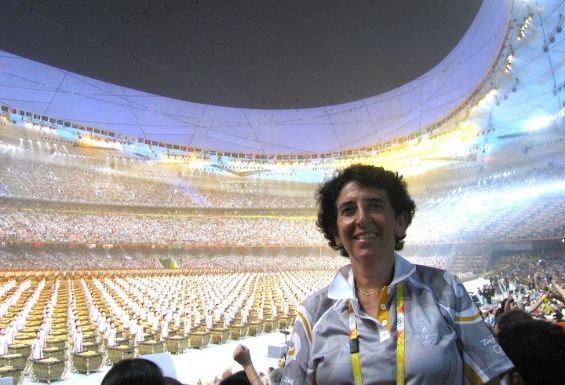 Maybe you ran into her on a national compétition, seen behind a scoring table or else seen on TV. The highest referee of the history of global badminton, Isabelle JOBARD comes back for us on his extraordinary path after 50 years of career.
Tell us about your path, how did you integrate the badminton community ?
I started badminton in early 1970s thanks to the sports association of my university in Paris because there was no access for tennis, so I was offered badminton.
I was immediately convinced, during training I met Jean BRUNET (the future président of the FFBA) who made me enter in the club where he played (the Racing Club of France). It Was during the Racing tournament in Issy-les-Moulineaux in 1974, that I joined this club which was looking players to form a team. In 2020, 46 years later, I'm now the oldest member of the club to which I have remained faithful !
Very quickly, I had various activities. It should be remembered that at that time there was less than 2000 licensees in France (Today there are approximately 200 000 licensees) thereby everybody knew each other and took care of everything. It was interesting to participate to the badminton development, who accelerated from the creation of the FFBA in 1979. I was together member of the office, member of the regional league and of steering committee of the federation from 1980 to 2016 (with a break between 1996 and 2008 where I prioritised my activity as an international judge arbitre).
I was also general secretary from 1988 and 1992. Throughout these six terms in the fédération, I was responsible for commissions, status, regulations and arbitrations. It was fascinating because at the beginning there was everything to create and organise. I had started to arbitrate by training myself on the job. I then gradually set up different levels and refereeing and the corresponding training with help of friends English referee. Then we took care of developping "referee" sector and the organization of competitions.
As a player, I continued to do tournaments during the 80s (I played in all three disciplines, in series B). In addition, I created within the Polytechnic School the badminton section where I worked, I trained this section for a while since I obtained a coaching diploma in 1981!
How did the ascent to the world's highest level of refereeing ?
It happened to me several times to be referee on a competition and to be appointed judge-arbitrator because the organisation hat not found any. So I did both jobs for a while, but I hand to refocus on judge-arbitrator work, while training referees in France and abroad.
In 1992, I became judge-arbitrator for Europe and in 1996 for the international federation. 
A few years after, I was nominated to my first world championship, in Glasgow. In 2004 the BWF promoted me to the rank of certified judge-arbitrator and I was fortunate to be nominated the same year for the Athens olympics. Another important step was of course the Beijing Olympics in 2008. I continued until 2015 to be judge-arbitrator for many BWF competitions, in many countries around the world and especially in Asia.
At the same time, I also had judge-arbitrator training and assessment missions for accreditation or certification. I have devoted a lot of time to this role in recent years because the BWF has decided to regularly evaluate all its judge-arbitrator, in order to ensure the best level and to prepare the professionalization of some of them.
How did you manage to accumulate your professional life and your activity in the judge-arbitration?
It was hard, I had a professional life that included two activities : one was restrictive (teaching at the university) but concerned only a limited number of weeks in the academic year; the other activity (research) I had the chance to be in practice master of the organization of my time and my work.
This gave me the possibility to plan my trips abroad when it was necessary for competitions, trainings or international meetings. I managed to honour almost all the appointments or missions I had, even if sometimes it was very complicated! I once had to give up a judge-arbitrator… at the All-England ! It was frustrating, but fortunately the opportunity came a few years later.
You have been judge-arbitrator in all the major competitions (twice at the Olympic Games, at the World Championships, …). In hindsight, what do you take away from your career ?
Maybe a little pride, especially when I received last year in Kiev the award of Badminton Europe for my entire career. In any case, it is a lot of satisfaction, pleasure, and also work.
I think all the time I was able to devote to this passion was well worth it.On the one hand, I was fortunate and privileged to travel to about 60 countries, and to meet people from very different cultures who shared the same interest in badminton.My different journeys have brought me a lot. 
On the other hand, I was able to observe and participate in the important development of badminton in particular thanks to the entry into the 1992 Olympic Games. It has since continued with greater media coverage, better presentation, the contribution of new technologies, professionalization, and many positive changing.
Do you think it was difficult to get to the top level because you are a woman?
It's not easy to answer this question. It is both difficult to be in a predominantly male environment but it is also an opportunity to make things change. The problem of feminisation in sport and in refereeing is complex. It has been taken progressively more seriously, both in France and internationally, and more particularly over the last ten years because of pressure from the IOC, which wants to move towards parity. I have participated in forums on feminisation and mentored several women JAs for the BWF and I have also contributed to the Badminton Europe women's commission.
What is your relationship with the Orleans tournament ?
I didn't work here but I've been there twice in the last few years: once as an observer when it was Badminton Europe tournament and the second time, to supervise and evaluate the judge-arbitrator when the tournament entered the BWF circuit.
Your international career behind you, what are you doing now, and what connection did you keep with badminton?
I have now stopped almost all my badminton activities but I sometimes still work with the BWF, as recently, with the expertise of a parquet made by a French company, which should be used in a few months at the Tokyo Paralympic Games.
I am still a Badminton Technical Delegate for the EUSA (European University Sports Association) which organizes the European University Games in Belgrade, where I will be going this summer.
I am still a judge-arbitrator at a meeting of National Interclubs, to honour the obligations of my Club, and I am still a member of the international commission of the French badminton federation.
I am also vice-president of the French refereeing body sport association, who worked to create the international equivalent, a world federation of referees of all sports recognized by the International Olympics Committee. 
Today, I am very pleased with the birth of the International Federation For Sport Officials (IFSO), of which I am proud and which will contribute to the recognition of international referees and judges.
The links that I keep with badminton is especially with many friends that I have had the chance to meet across the five continents and with whom I have shared the passion for this sport for about ... half a century!